From: http://www.spacedaily.com/reports/An_International_Response_To_Earth_Threatening_Asteroids_999.htmlAn International Response To Earth Threatening Asteroids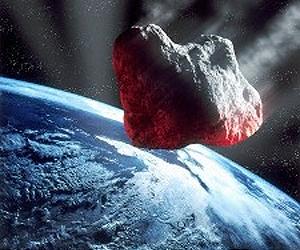 Illustration only.
by Staff Writers
Darmstadt, Germany (SPX) Nov 05, 2010
International decision-making will be required to coordinate a global response to deflect a hazardous asteroid from impacting the Earth.
"The workshop was an important and critical milestone in shaping both international attention and solutions to deal with a harmful asteroid that has Earth's address as its delivery point," said Dr. Ray Williamson, Executive Director of Secure World Foundation.
"We were very pleased with the outcome of the workshop and will be supporting follow-on initiatives that further spur needed scientific, technical and policy discussion to establish an international framework for planetary defense," Williamson said.
"Representatives from NASA and the European Space Agency, facilitated by Secure World Foundation and the Association of Space Explorers, talked substantively about how their programs could be coordinated to gather important planetary defense knowledge about asteroids, what asteroid research is needed to facilitate deflection planning, how space agencies should demonstrate asteroid deflection technologies, and when future planning meetings should take place," Jones said.
"The workshop series is focusing on plans and recommendations for global coordination and response in the event that an asteroid or other object is found to pose an impact threat to Earth," explained workshop coordinator, Detlef Koschny from the European Space Agency.
Camacho assisted in defining future planning tasks and studies for the MPOG that will later be merged with findings of other experts to create a final report to the UN committee. Such a report will recommend how to react to an impact threat from a Near Earth Object, or NEO.
Earlier this year, a workshop organized by Secure World Foundation in coordination with the Association of Space Explorers and CRECTEALC was hosted by the Mexican Ministry of Foreign Affairs in Mexico City.
Participants in that interdisciplinary workshop considered the challenges and problems that a future Information Analysis and Warning Network (IAWN) would face in providing global warning and technical analysis regarding an Earth-threatening asteroid.
"NASA and the European Space Agency both expressed high interest in working together to solve the technical problems ahead, and I hope they will be joined by the many other space agencies with their additional talents and resources," Jones said.
ASE's international community of space fliers, Jones added, "applauds the agencies' participation in MPOG, and looks forward to assisting in getting the message out that global cooperation can take on this very preventable natural hazard."